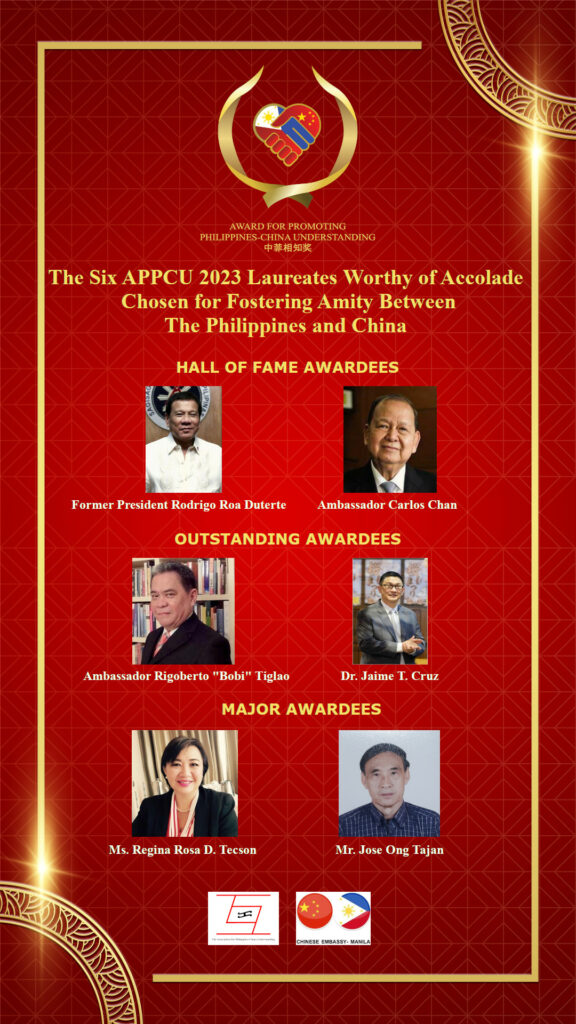 Since the launch of the third year of APPCU in January of this year, members of the board and the committee behind the awards have endeavored to streamline its search for well-deserving individuals for recognition of their efforts and contributions in fostering and promoting understanding, appreciation, and the reinforcement of amity between the Philippines and China.
Six public and private sector individuals have passed the 2023 Awards for Promoting Philippines-China Understanding (APPCU) three-stage selection and judging process from a list of nominees beginning the early quarter of this year (2023). The Association for Philippines-China Understanding (APCU) and the Embassy of the People's Republic of China in the Republic of the Philippines are delighted to announce the Six Laureates of APPCU 2023. Their works' prestige and endeavors in promoting and strengthening the friendship and mutual understanding between the Philippines and China are essentially the basis for selecting them as APPCU Laureates for 2023.
APPCU pays special tribute to Filipinos who have made efforts through time to strengthen friendly ties and promote mutual understanding between the Philippines and China using their respective advocacies and expertise in the various fields and disciplines of mass media, public service, trade and commerce, arts, culture, and the sciences.
There are three categories for the award: The Hall of Fame category, which acknowledges the prestige and stature of the individual, and the immense effort of work the individual has done over time, as may be evidenced by the extent of reach, impact, and reception of the work(s) by communities and societies.
The Outstanding Contributions category recognizes individuals of lesser prominence but has nonetheless made notable contributions to promoting and strengthening Philippines-China bilateral relations, friendship, cooperation, and understanding.
The Major Contributions category recognizes the works of individuals whose works have a growing reach and impact on the lives of specific groups or communities of people at the grassroots level.
This year's APPCU Hall of Fame awardees are Former Philippine President Rodrigo Roa Duterte andformer Special Envoy of the President to the People's Republic of China, Ambassador Carlos Chan.
The awardees for the APPCU Outstanding Contributions are Ambassador Rigoberto D. Tiglao, a columnist at the Manila Times and the former Philippine Ambassador to Greece and Cyprus, and Dr. Jaime T. Cruz, former Special Envoy to the People's Republic of China, Trade and Investments.
The awardees for the Major Contributions category are Regina Rosa D. Tecson, the Director of the Satellite Office of Vice President Sarah Duterte in Davao City, and Jose Ong Tajan, the Former President of APCU Baguio and also the former chairman of the Filipino-Chinese Chamber of Commerce of Baguio City.
The six awardees will be recognized in an Award Ceremony to be held on the 8th of June, 2023.